Keep your customers committed to your company by automating loyalty membership management.

Catapult's reliable and revolutionary marketing and loyalty platform requires no additional third-parties to offer a full-spectrum solution. From one commerce platform, a retailer can increase the size and lifetime value of their customer base, calibrate marketing campaigns, manage self-hosted gift card programs, and access membership data.
Keep your customers coming back and grow your fan base.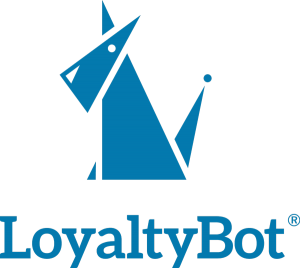 Add lifetime value to your customer base
Shoppers are more likely to build brand loyalty when incentivized through loyalty promotions. With LoyaltyBot, retailers can automatically provide customers with rewards based on configurable criteria.
Reward customers for social media shares
BuzzBot®, an innovative feature within LoyaltyBot, can be used to reward shoppers when they share a store's events, newsletters, or promotions through their social media networks.
Track everything
LoyaltyBot provides extensive reporting on web and email analytics, loyalty tracking, and campaign performance.
Communicate with customers at the POS
Catapult'S Customer Interface Display (CID) helps retailers promote store initiatives and influence purchases in the checkout lane.
Flexible service terms
LoyaltyBot is software, offered as a service. The use LoyaltyBot is charged at a low monthly rate and requires only a 30-day written notice to cancel.
Keep your data
All data acquired through the program is owned and accessible by the retailer.
Automate your marketing campaigns
Configurable email campaigns
LoyaltyBot offers multiple email templates for professional branding when designing an ad campaign.
Automated loyalty triggers
Customers can receive user-specific rewards based on birthdays, holidays, customer enrollment anniversaries, frequency of shopping, purchasing ranges, and program enrollment.
Incentivize repeat business
Loyalty rewards can be configured to automatically provide incentives for customers to return based on the last time they shopped with the retailer. For example, all customers who have not shopped with the retailer in the last 35 days.
Increase customer spend
Using LoyaltyBot's Basket Lift™ function, automatically incentivize customers to increase their weekly spend and/or encourage them to shop in departments they are currently ignoring.
Self-Hosted Gift Cards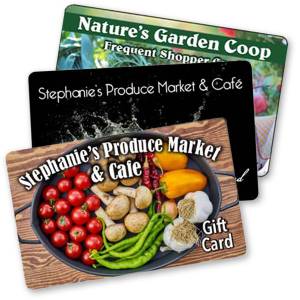 ECRS offers a completely self-hosted, easy-to-use gift card system that eliminates the need for reliance on additional third parties.
Readily Available
ECRS gift cards are based on barcode numbering sequences and can be ordered from ECRS, purchased from a third-party printing service, or printed in-house.
Easily redeemable
Gift cards are listed as a tender option at the POS and at self-checkout terminals.
Quickly reloadable
Cards are reusable, gift amounts can be added at the POS by authorized personnel.
Third party options
Catapult also integrates with all major third-party gift card systems; please inquire for availability and functionality.
Hassle-Free E-Coupons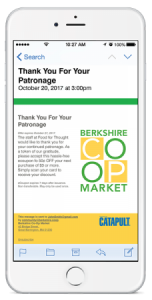 Through LoyaltyBot, retailers can create custom configured digital coupons using criteria that they choose.
Speed up checkout times
No physical coupon or phone scan is required, coupons are applied at the POS via customer association.
Reduce risk of fraud
E-Coupons cannot be counterfeited or duplicated.
Configurable use limits
Retailers can restrict coupons by day, time, item or frequency of use.
Coupon tracking
All E-Coupons are tracked in a customer's loyalty account. Previously used or current coupons can be viewed by the customer and/or cashier.
Membership management made simple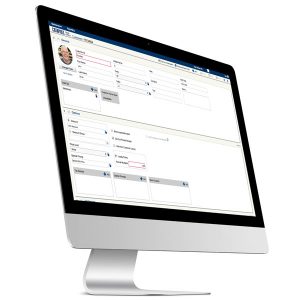 Warehouse clubs and cooperatives that rely on membership data can track vital information in real time right from the point of sale with Catapult Membership Server. Control over membership programs is streamlined, an integrated interface allows cashiers to access all functions related to member accounts.
Register new members quickly
Cashiers can register new members on-the-fly at the POS.
Automatically adjust pricing
Adjust pricing by member to meet all membership obligations.
Track member patronage
Cashiers with the proper security allowances can see customer profiles, apply discounts, process refunds, charge member fees, and edit price levels without ever leaving the POS.
Automatically manages dues
Prevents membership rewards from applying to a purchase if dues have not yet been paid.