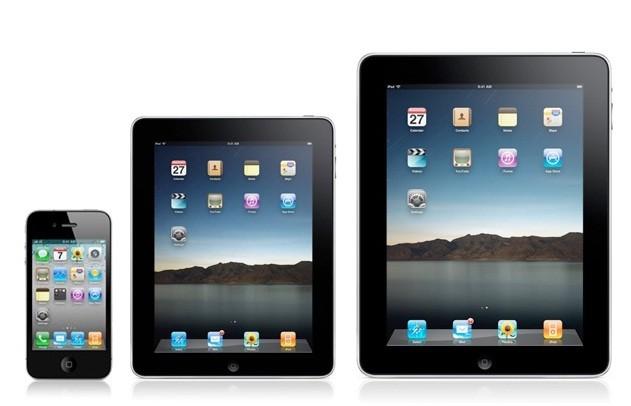 Not too big, not too small… just right.
The latest electronic device in the mainstream is the tablet computer – and they have definitely gone mainstream with literally hundreds of sizes, shapes, brands and Operating systems, to suit just about any user. If you own a tablet, then you already know they are not a replacement for everything – they are terrible computer replacements and if you're trying to buy a tablet to replace your desktop or laptop you'll probably be disappointed. What they are great for is specific tasks or things you want to do. Some of them are great entertainment devices, and casual web surfing on them is fun. There are thousands of handy apps to keep you occupied or provide you with very specific information or perform specific (read: limited) functions.
This doesn't mean they won't be computer replacements in the future. I think the tablet format will eventually replace the computer, and the stock prices of the major PC manufacturers certainly reflect that assessment. But until the tablet and handheld industry figures out what customers are looking for and addresses their product shortcomings, there will still be challenges. One of those challenges is the actual size of the tablet's form factor, despite what you may have heard, size does matter. Especially to the "Goldilocks" restaurant owner looking for the perfect wireless handheld POS tablet solution.
A couple of weeks ago I was reading the iMore.com blog, part of the Mobile Nations group of websites, and stumbled upon an article where they speculated two things: 1. "If" Apple will release a 7" tablet, fondly known at the moment as the iPad Mini, and 2. "Why" would Apple offer a 7-inch iPad, in seemingly direct competition with the iPad 2 & 3 and priced around $200? To read the full article written by Rene Ritchie, go to: www.imore.com/apple-release-7-inch-ipad.
Ritchie is usually pretty thorough, but in this case I think he misses an important client segment which is extremely important for Apple if they wish to continue growing their market share in a seemingly already saturated market – Business. He barely mentions the business user, but I think the 7" tablet is uniquely suited to the business category, for example the restaurant looking for a device as a restaurant handheld POS terminal, for example Ipad handheld POS, and here's why.
4" Is Too Small
When Handheld POS terminals were new to the POS market, and we were installing devices like the Symbol MC50 wireless handheld, the number one objection we received from restaurants was, "they're nice, but they're too small. It's hard to see the screen and touch the buttons. The servers would prefer to just go and use a POS terminal." When the 4.4" x 2.32" iPod weighing in at 3.56 ounces hit the scene, the POS industry rushed to show off POS software running on them. The touch sensitivity was dramatically better, we didn't need to use a stylus anymore, and the user experience was greatly improved. Still however, we had the same complaint from new and existing clients alike, "It's handy, but it's too small."
10" Is Too Big
When 10" tablets like the Apple iPad and Toshiba Thrive were released to market, we geeks in the POS industry were elated. Finally! A wireless handheld device we could use as a mobile POS that was large enough to satisfy people with the worst eyesight and the fattest fingers! Off we went to the first demonstration, and proudly pulled it out of our briefcase. People were in awe of our 1.44 pounds and all 9.5 inches of Appley Goodness. When the newness wore off, they said, "That's sexy, but you know, it's way too big. When the server is done taking the order, where the hell will she put it?"
7" Is Just Right
When Apple releases the iPad Mini, I expect there will be a boom in Apple products once again. Except it won't be for the entertainment segment – who wants to watch Netflix or surf the web on a 7" screen when you can do it on a 10" screen? It won't be teens – they would far rather own an iPod or a mobile phone to listen to music, play games, and communicate to Facebook, Twitter, BBM, and email. I think the 7" tablet will be largely preferred by the cost-conscious and size sensitive business segment – and I think you'll see the first visible usage out in restaurants as handheld POS devices, like POS for the ipad, for tableside order taking service.
Large enough to see and use comfortably but small enough to carry around and store in a restaurant server's change pouch, a 7" tablet is just right for the restaurant looking to deploy wireless handheld POS so they can take advantage of the efficiencies of tableside service.
What if Apple Doesn't Release a 7" Tablet?
Don't forget that Apple releasing a 7" iPad Mini is still purely speculation – albeit educated speculation based on Apple's manufacturing partners reporting their own manufacturing numbers. And based on Bloomberg's reporting on those numbers Apple is manufacturing "something" new and it looks like a 7" tablet. But, hey, if they don't, it's Apple's loss. As a restaurant owner you should not wait, you should simply select a 7" Android or Windows tablet you like and deploy that. The benefits of deploying wireless handheld POS in your restaurant far outweigh the drawbacks of not using Apple.
Don't Wait Until The Bears Return to Your Restaurant
People have a habit of waiting too long to use technology. Experience is the best teacher, and with technology the spoils go to the people who get in on the ground floor. So when people ask me, "How long should we wait for the right tablet?" Don't wait at all! Do not forego the benefits and ROI from deploying wireless handheld POS in your restaurant! The profit increase from deploying tableside service will more than pay for you to upgrade or switch to 7" iPad tablets! Don't forget we're talking about a tablet that will come out priced around 200 bucks. That's porridge… er… I mean, peanuts. If you do decide to wait, Apple will probably release the tablet in October, but if they don't release it by Christmas – stop waiting. You're losing too much money by holding up the single most important innovation in the history of restaurants. There are plenty of great 7" tablets out there with great features and accessories, such as the Toshiba Excite 7.7", Google Nexus 7", and the Samsung Galaxy Tab to name just a few.
Don't forget how the story of Goldilock's ends. Those restaurants that wait too long to upgrade will end up getting eaten – by their competitors.
* UPDATE – Tuesday, October 23: As predicted the iPad Mini has been announced by Apple and pre-orders are starting on October 26th. The Wi-Fi version will ship on November 2nd, and the cellular version 2 weeks later. Apple calls it the iPad just concentrated, but the specs are closer to the iPod touch 5 or iPad 2, with an Apple A5 processor, optional LTE 4G and DC-HSPA networking, a new Lightning connector, and the recently released iOS6 operating system.
We're eagerly waiting for our shipment of iPad Minis because we know that as soon as we receive them our Digital Dining Restaurant POS handheld software will already work on it! When you receive your iPad Mini, let us know what you think of it!
*UPDATE – Saturday, November 3: We have received the iPad Mini and we already have Digital Dining POS setup on it! Setup a demonstration with one of our sales professionals today. In the meantime, check out our Youtube video to see how great it is! http://youtu.be/kV0rzALiolk
About Armagh POS Solutions
Armagh has been serving the retail, restaurant and grocery industries in Canada since 1979, delivering solutions for a range of operators from single-unit small businesses to multi-unit national chains.
We are specialists in touch screen and scanning point of sale (POS) systems for both restaurants and retail stores, cash registers, scales, liquor inventory control systems, and grocery label and wrapping equipment.
With 40+ years POS industry experienced the sales staff at Armagh provides experienced consultants in point-of-purchase management, customer service efficiency, process automation, and restaurant order management.
Armagh's award-winning Catapult Retail POS Software and Digital Dining POS Restaurant Software are best-in-class, and Armagh is a QIR and Diamond Toshiba Alliance Partner.