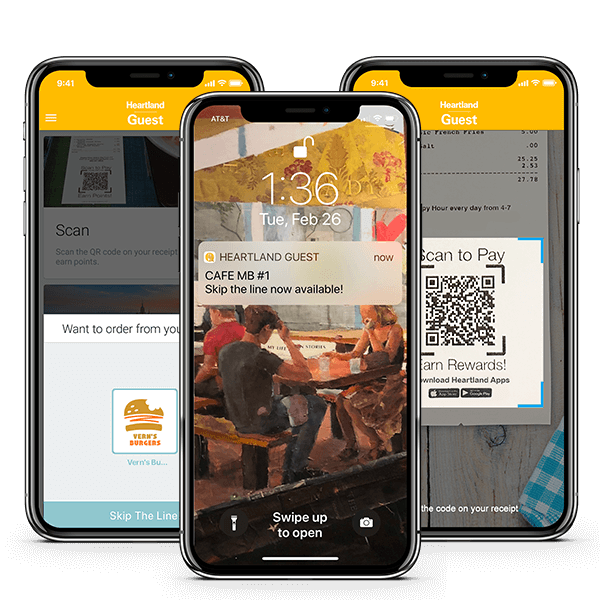 The Global Restaurant POS Guest App for iPhone and Android allows restaurant guests to interact directly with your restaurant POS system. The Global Restaurant POS Guest App use iBeacon technology and can alert guests when they enter the restaurant, inviting them to Skip The Line.
Guests can now scan their receipts to pay and or earn loyalty rewards, and every scanned receipt is automatically saved in the Guest App's history allowing users to look back at their previous orders.
For multi-unit operators, the Global Restaurant POS mobile Guest App makes it easy to select the restaurant location closest to them.
Available from Apple App Store or Google Play
Free App for your customers to download
Mobile app for online ordering
Notify your guests to 'Skip the Line' upon arrival
Guests can scan their receipts to Pay & earn Rewards
Built-in Loyalty program with tiered 'Rewards'
Keep track of and reorder from past orders with 'Order History'
Store locator
Mobile Ordering
The mobile ordering app allows your guests to skip the line and place an order from their own Apple or Android mobile phone. This offers yet another way for your guests to interact with your restaurant, and allows people to order in the way they would prefer – and avoid having to use a mobile "website" experience on their phone, or from a desktop computer.
The Skip The Line App keeps track of the recent orders and allows guests to order them again, which simplifies the ordering process to only a few touches, and further enhances the customer's experience.
Turn on the built-in loyalty program in Global Restaurant POS, and in addition to ordering, guests may automatically earn loyalty points. The POS tracks the customer transactions for you, giving restaurants an easy way to reward frequent guests.
Guests pay for transactions automatically through their phone with a tokenized credit card, which means there is no credit card data stored in your App.
Skip The Line
Don't make your guests wait! Use the Global Restaurant POS Guest App to Skip The Line!
Allow your guests to place their order and skip the line in a matter of seconds! Create an express pick up lane process and improve the throughput of your restaurant with very little additional overhead. Once guests download the free app from the Google Play or Apple App store, the Global Restaurant POS Mobile App uses iBeacon technology to alert guests when they enter the restaurant, inviting them to skip the line. App users can create an order from scratch or look up past orders for a quick reorder of a previous order with just four touches! Skip the Line orders are seamlessly integrated with the Global Restaurant POS system and sent to the kitchen video or printer for preparation.
Scan To Pay
Scan to Pay and be on your way!
Table service restaurants can choose to enable QR codes to print on the bottom of their guest checks. Once the QR code is scanned using the Global Restaurant POS Guest App with an Apple or Android phone, it enables guests to quickly and securely pay their bill – no pinpad required! The Guest App allows easy one touch tipping using suggested tips and securely stores credit card tokens at the processor for faster future payments.
Scan For Points
Competitive loyalty point systems require restaurant guests to go out of their way to be a part of their favorite restaurants' loyalty program. Whether it's giving the cashier their phone number or having a ratty old paper card punched, it can be a nuisance to manage and detract from the customer experience. Scan for Points makes earning points as easy as possible by putting the QR Code on their check as a reminder that points are available with a simple scan. Once the guest scans enough points, they get a reward. Restaurants can schedule the same reward over and over, or have tiered rewards that allow for better rewards as they achieve better levels.
Loyalty Rewards
The POS tracks guest accounts using iBeacon technology, eliminating the need to scan or swipe customer cards or collect phone numbers. With each visit, guests accumulate points which convert into rewards as point levels are met. Customers rank up from Bronze to Silver to Gold the more they spend, and a higher rank can mean more valuable rewards. Guests are able to track their own loyalty points from the App. No more need for printing punch cards or plastic customer cards.
Proximity Detection
With iBeacon technology, the Global Restaurant POS system will automatically detect and greet directly to customers who have installed the mobile App on their Apple or Android phone when they are within range of the restaurant location. Restaurant staff can detect and attach customers to checks during the transaction process rather than swiping cards, collecting phone numbers, or punching cards, providing a truly frictionless guest experience.
Order History
Customer experiences are automatically tracked in the mobile Guest App for review and reorder purposes. Additionally, Global Restaurant POS' smart data design also enables Online Ordering and Self Service Kiosk experiences to automatically connected whenever a guest chooses not to use their mobile app, but connects with their phone number. This enables guests to collect points and track history at any time with or without the app to maximize their positive experiences and achieve rewards even faster.