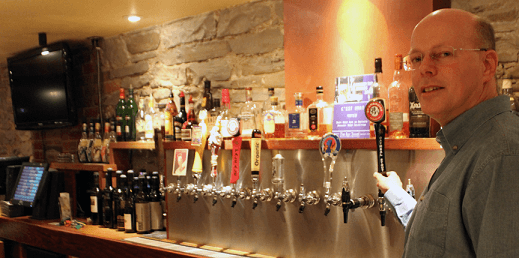 A Three-Year Search For The "Ultimate POS System"!
Toronto restauranteur, Tim Broughton's search for the 'ultimate' point-of-sale system, one that could be integrated into every aspect of his restaurant, had been going on for nearly three years before Armagh arrived on the scene.
During that time he and his partner dissected every major POS system on the market.
"There were at least eight systems that we looked at very seriously," recalls Tim, co-owner of C'est What?, a 300-seat 'neighbourhood pub' situated on Front Street in Toronto just down the street from the bustling St. Lawrence Market.
"None of them had everything we wanted. But we were prepared to take our time to get it right because these days a POS system that is fully integrated into every aspect of your restaurant is mission critical stuff."
When Armagh introduced Digital Dining, Tim felt he had a winner.
"Digital Dining covers more of the waterfront than any of the systems we looked at," Tim says. "We saw systems that were very good at specific things, but not so good at others. For instance, we saw some that were good at point of sale but not so good at inventory control or table management. "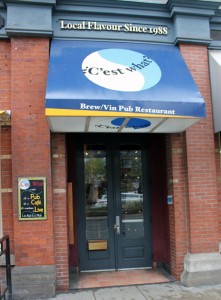 Tim had a clear idea of his needs – first and foremost the system had to be a solid performer upfront, helping servers deliver great customer service. But it also had to integrate well into the back end.
"Digital Dining's financial integration into our accounting system is really quite slick – I am very much a fan of that. The integrated credit card system has also had a huge positive impact on our business. We also fully utilize the inventory control systems in the package, and it has had a major impact on our cost of goods."
Since implementation of a detailed inventory system which has been enhanced with Digital Dining, Tim notes, the restaurant's food costs have dropped dramatically. "We have been running a full-fledged inventory system for quite a while, and have realized significant cost savings. Digital Dining has made running inventory easier, and those savings go straight to the bottom line."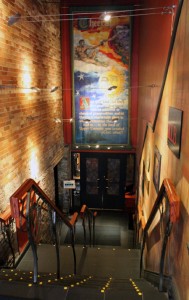 Service from the Armagh team has been exceptional, he adds. "In comparison to other providers we have seen, Armagh is excellent. They respond when I call, and ultimately they come up with answers. They don't just brush off problems with the standard answer to reboot the system. They find out what's going on, and fix it."
C'est What?, which opened its doors in 1988, bills itself as a Canadian pub featuring Ontario microbrewery beers, VQA wines and an 'ethno-clectic menu' that caters to its culturally diverse neighbourhood. Its two bars, and varied dining rooms, are serviced from six POS terminals with plans to add at least two more including a hostess terminal.
From its non-descript entrance on Front Street, diners descend a set of slate stairs into what was once a canning factory on Toronto's waterfront. C'est What? regularly features live entertainment, and has hosted a number who have gone onto fame.
Tim figures he has discovered a new talent in Digital Dining. "I am quite pleased with the Digital Dining system, and I can tell you we push it very hard."
To download the pdf version of this onsite report click here.
About Armagh POS Solutions
Armagh has been serving the retail, restaurant and grocery industries in Canada since 1979, delivering solutions for a range of operators from single-unit small businesses to multi-unit national chains.
We are specialists in touch screen and scanning point of sale (POS) systems for both restaurants and retail stores, cash registers, scales, liquor inventory control systems, and grocery label and wrapping equipment.
With 40+ years POS industry experienced the sales staff at Armagh provides experienced consultants in point-of-purchase management, customer service efficiency, process automation, and restaurant order management.
Armagh's award-winning Catapult Retail POS Software and Digital Dining POS Restaurant Software are best-in-class, and Armagh is a QIR and Diamond Toshiba Alliance Partner.